What is a Muscle Car?
What is a Muscle Car Anyway?
These days, restoring classic cars has become an extremely popular hobby, along with car shows, clubs and other events. Many of the enthusiasts and car owners are baby-boomers who are reliving their past by restoring and driving a Mustang or Camaro that reminds them of their first car and days gone by.
If you are from that era, you know that almost everyone toyed with their engines to eek out a few more horses and give them an edge over the guy who just pulled up to the stoplight in a black corvette and looked your way, wondering if you'd run him, confident that his Stingray would smoke you when the light turned green. Because after all, every guy's car was the fastest in town. It had muscle. It was just that simple.
Yet back then, we called our cars many names other than muscle cars. We might call them our rods, our rides, our wheels, to
name just a few. Today, with the growing popularity of giving cars from the 60s and 70s a second life, it seems that the majority of cars of that era have been renamed "muscle cars." My hunch is that it owes to the fact that, compared to most cars of today, they actually had muscle, in the form of power to wheels. When you asked, they delivered.
Yet I wonder, what, exactly, qualifies as a muscle car? To find out, we have to go back a few years, or decades to be exact. And as you'll see, the definition varies a bit, depending on who you ask.

Motor Trend used the term "Muscle Car" in 1965, and that's about when most people of baby boomer age remember hearing the term. Actually, it is a lot older than many might think. It apparently has its origins with the introduction of OHV engines by Oldsmobile and Cadillac in 1949. Writers for automotive magazines described those cars as having "Plenty of Muscle." Obviously the term stuck, but was modified to being "Muscle Car" and became a part of the horsepower race lexicon of the 1950's.
"According to the June 1967 issue of Road Test magazine, a 'muscle car' is exactly what the name implies. It is a product of the American car industry adhering to the hot rodder's philosophy of taking a small car and putting a BIG engine in it."
The definition changes drastically, however, depending on who you ask. Ask the Merriam-Webster Dictionary, and you'll get this: "Any of a group of American-made 2-door sports coupes with powerful engines designed for high-performance driving." Simple enough.
But, if you ask a Mopar guy, no doubt he will say something like a '68 Cuda or better yet, a Charger
R/T with a 440-cubic-inch 375-horsepower Magnum V8 engine—or--the optional 426-cubic-inch 425-horsepower Hemi V8. In his mind, all the other cars were simply not worthy.
Now, a Chevy guy will no doubt say a '66 Chevelle with a 396 or a '70 with a 454. GM made a lot of contenders back in the day, which equates to a lot of GM or Chevy guys defending their big-blocks as the hands-down winners when it came to a muscle car.

Ford? That's a tad harder to pin down. Ford Mustangs dominated the streets numbers-wise, but the little 289's were not exactly muscle-car material. Ford's other primary offerings were a mild Shelby and Boss 302, not much in the way of competition for big blocks. For the few that could afford it, there was the Cobra Jet 428-cubic-inch V8 that put out 335 horsepower. In reality, Ford really was not too much of a contender in the short hey-day of muscle cars; there just were too few seriously fast Fords on the road.
[caption id="attachment_1844" align="alignright" width="300"]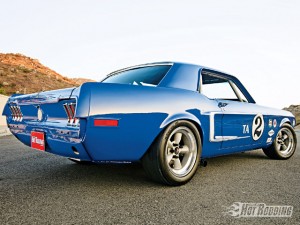 Mustang was a "Pony" car that had just a touch of muscle[/caption]
Of course, there were others; the 1970 AMC Rebel Machine, the 1969 Hurst/Olds with a 455-cubic-inch V8 that produced 390 horses. Some might bring up the '61 Chevy Impala SS with a 409, or a Ford Galaxy with a 425-bhp 427, a Fairlane or a Road Runner. The list goes on for days, and will be a topic up for debate for as long as gas-powered engines are something that people (men, mostly) love to talk about.
A bit of research revealed that, even prior to the fifties, there was a car that was considered to have "muscle" and is considered by many to be the first real muscle car. In 1949, the Oldsmobile Rocket 88 was made by General Motors, and it featured the first high-compression overhead valve V8, placed in a smaller Olds or Chevy body that normally housed an inline six.
Jack Nerrad wrote in Driving Today, "The Rocket V-8 set the standard for every American V-8 engine that would follow it for at least three decades[...] With a displacement of 303 cubic inches and topped by a two-barrel carburetor, the first Rocket V-8 churned out 135 hp (101 kW; 137 PS) at 3,600 rpm and 263 pound-feet (357 N•m) of torque at a lazy 1800 rpm [and] no mid-range car in the world, save the Hudson Hornet, came close to the Rocket Olds performance potential."
Nerad also wrote that the Rocket 88 was "The hit of NASCAR's 1950 season, winn
[caption id="attachment_1845" align="alignright" width="220"]
Rocket 88 OHV V8 Engine[/caption]
ing eight of the 10 races. Given its lightning-like success, one could clearly make the case that the Olds 88 with its 135 horsepower (101 kW) V-8 was the first 'musclecar'."
Other car makers joined the fray to supply speed and power to the American people, but it took a few years. It wasn't until 1955 that Chrysler introduced its C-300, a blend of hemi-power and luxury fittings. The C-300, which boasted 300 horsepower, was advertised as "America's Most Powerful Car." The car could do 0 to 60 mph in 9.8 seconds and top out at 130 miles per hour, making it NASCAR's new sweetheart.
This brings us right into the sixties, which truly were the heyday of the muscle car. The decade was crammed with auto makers designing and building high-horsepower cars that were also drivable, and most importantly, that the American public would embrace. Some flourished, while others faded away without any fanfare.
While many can boast of their first car and its amazing horsepower, it's apparent that we are talking about a bygone era, which for most of us ran from the mid-sixties until smog control reared its ugly head around 1973 and put an end to our gas-guzzling hot rods and weekend drag races. It was a fast few years, in more ways than one. Thankfully we can relive it, albeit vicariously, through the restored classics that roam the streets and are proudly called muscle cars.